This post contains affiliate links.
This winter I am all about basic. Basic colors, basic fit, basic style.
Being comfortable is key, so there is a mix of comfy footwear, cozy tops and stretchy pants.
Check out what I will be wearing this winter and join me on the basic train!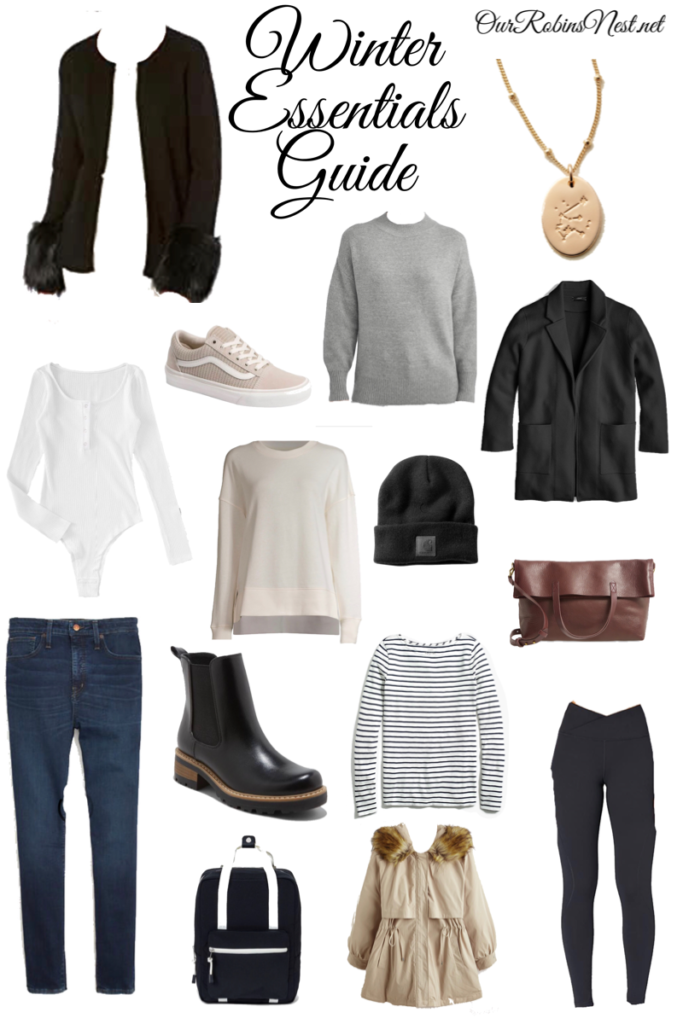 It's warm and cozy with just enough fur to wear with a casual shirt and jeans.

These are a must have in both black and white. They fit well and go great with a vest or cardigan.

Any jeans by Madewell are my favorite. They fit amazing and do not lose shape. They go great with boots or a pair a sneakers.

These color sneakers go with any outfit, black brown or blue.

These sweatshirt are my absolute favorite. I have them in about three colors and have them on rotate. They are soft and you cannot beat the price!

These style boots are my favorite, they are so comfortable and go with any outfit.

This backpack is perfect for day trips and adventures with your little ones.

These basic cozy sweaters from Time and Tru are so affordable, you cannot pass them up! Available in black and gray.

This is a great comfy and warm hat that goes with any outfit, causal or leisure.

This tee goes great with a cardigan or blazer and a pair of jeans.

I just got this coat for the winter weather and it is so warm and comfy. I love the fluffy hood and the waist drawstring is always a plus for me.

I love any piece of jewelry by Made By Mary. I have a few pieces from them and the quality is amazing and so is the price.

I love my Sophie blazers from J. Crew. I suggest to have this as a staple in your wardrobe!

The color of this bag is gorgeous and comfortable to use as a cross body for on the go use.

An essential pair of leggings come right from Amazon! Choose your size and length and they will guarantee to fit you like glove.