Mamas! Can you believe Thanksgiving is here? I hope everything leading up to it has been stress free. By now all stores are having their crazy Black Friday deals and we also have Small Business Saturday and Cyber Monday to look forward to. I am pretty excited!
I have previously posted Gifts Under $25 for Your Mom Tribe and 10 Unique Gifts to Get You in The Mood for Holiday Shopping but today I have the ultimate gift guide for you.
If you struggle with figuring out what to get your friends and family every year for the holidays this post is for you! I have teamed up with some amazing bloggers that will help you find that perfect gift for everyone in your family and more!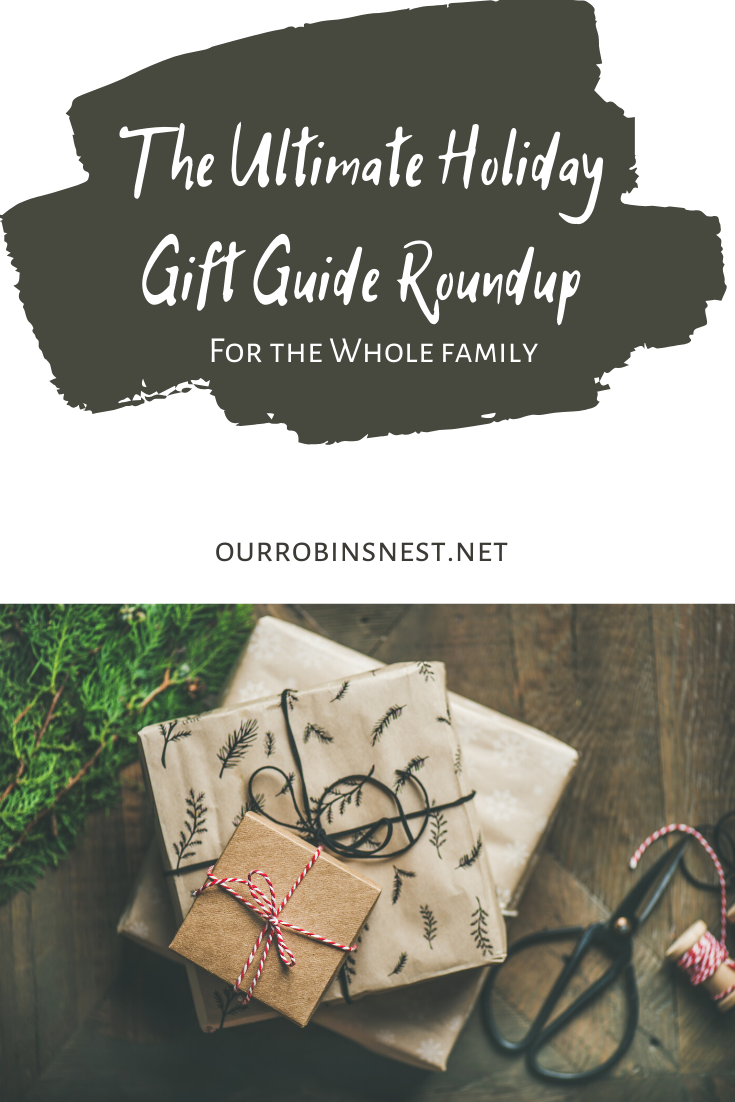 Tween/Teen Girls
I hate that I am admitting this, but I literally just found out what a VSCO girl is. If you're like me and need some desperate help finding a gift for the Tween/Teen in your family this Gift Guide for VSCO Girls is for you
Fathers
These gift ideas for dads are great for dads of all ages! Not only are these gifts all under $50, they are dad approved!
Creative Kids
Do you know any kids that are love creative play? This list for creative kids and the growing creatives have great ideas!
Non-Toy Gifts
This gift guide is great if you are looking for non toy gifts! This Non-Toy Gift Ideas for Kids guide has items that will keep your child busy as well as fun interactive experiences!
Hostess
Traveling this holiday and need gift ideas for the hostess? This 10 Go to Hostess Gifts guide is sure to help give your loved one a stress free holiday after hours of prepping and planning!
Ages 1-3
If you are looking for gifts that are geared toward open ended play or have a Montessori approach, this Ultimate Gift Guide for Ages 1-3 is for you! There is also a bonus gift guide for kids under 1.
White Elephant
Are you have a holiday party at work and planning to do a gift exchange? Here is 30+ White Elephant Gift Ideas That are Under $20 guide!
Little Girls
I think we can all admit that shopping for girls can be hard. You need to check out this Ultimate Gift Guide For Little Girls to make sure you have all your bases covered.
Allergy Friendly Gifts
This Allergy-Friendly Christmas Gift Guide is perfect for anyone who has any allergies or intolerance in your family. Not only does it cover good allergies, but chemicals as well!
STEM and STEAM
STEM stands for Science, Technology, Engineering and Math, and STEAM stands for Science, Technology, Engineering, Arts and Math. These subjects are very important for toddlers and this Gift Guide Ideas for STEAM and STEM have great options to choose from!
Yoga Lover
If you know someone who is beginner yogi or and advanced yogi this Yoga Lover's Gift Guide is perfect!
Stocking Stuffers
Stocking gifts are easy to forget and no one wants to look inside an empty stocking on Christmas morning. Check out these great Stocking Stuffer Gift Ideas so you are sure not to forget!
Yourself
Lets not forget about yourself Mama! Here are some great ideas for you to share with your loved ones who are stumped on what to get you for the holidays!
I hope this round up guide has been super helpful for you! We all know the holidays aren't supposed to be about the gifts, but admit it, you know you want to be the one who gives the best ones!