Last weekend while Dan was away for the weekend, Franco and I went on little adventure down in Hudson, NY. It was about a 45 minute drive that consisted of Elmo karaoke, a farmer's marker pit stop, snacks and a quick power nap (for Franco ?).
When we got there, we enjoyed walking around town and window shopping at a all of the antique shops. We finally got to our destination The Bees Knees where artist Erik Johnson was creating silhouettes. Erik is a third generation silhouette artist and cuts each one freehand. It took about a total of 10 minutes for Erik to do one of Franco and I was in amazement! He had a tablet setup for Franco to watch Thomas the Train and while Franco watched, he cut away! This is such an amazing keepsake to have and I am so happy we took the drive to get this done. Erik tours all over the country so be sure to check if he will be in your area soon! Nothing beats a good old fashion silhouette of your child.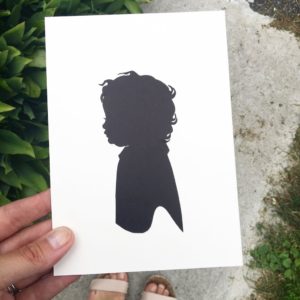 Be sure to check out Erik's Facebook Page !