I am huge with owning secondhand things, our  home is mostly has secondhand goods and I think it gives our house a lot of character. When I found out I was pregnant with Franco, Dan and I bought a lot of second hand clothes and furniture which saved us a lot of money. I go to a lot of consignment and thrift shops for my clothes and honestly, no one would ever be able to tell that my style is not brand new! I have recently put together a clothes swap with my local mom's group and it was such a hit. It was adult and children clothes so we all benefited from this.
This past weekend I attended another clothes swap and it was a success. With just a few garments, I am able to mix and match many different outfits.
Also check out these boots!! Do you just love these!?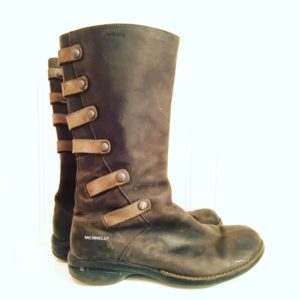 ~~~
Saturday morning my husband came home from estate sailing with his dad who is visiting and they found some great deals! We were in need of a new mirror and Dan found this guy for only $4. I swear he is the best with finding what we need an unbelievable price. He basically taught me everything I should know about thrift shopping.? That scale too, I am still deciding where to put it in the house!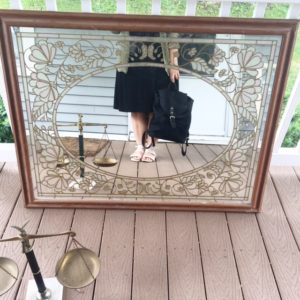 Later on that day we were all taking a walk to dinner and saw that a house down the road was getting rid of a bunch of stuff. Check out what I scored below!
I couldn't believe that this was all going to go in the garbage. Okay I am going to admit, this picture is kind of creepy but I had to have it, I think it goes well with the lamp  that was included with our find!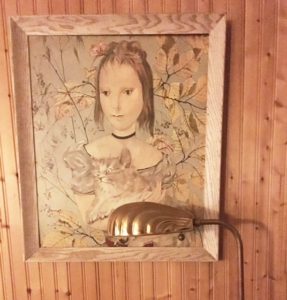 I love milk glass, but I have a friend who loves them more. So these will be going to my friend who will continue giving these guys a good home!
These salad and fruit bowls were so hard to pass up. I had to have them all, they will get put to good use I swear!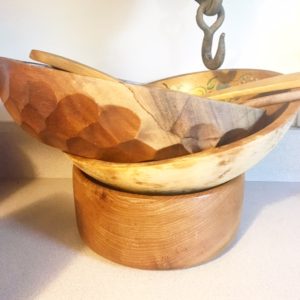 ~~~
After that huge haul I thought our hunt was complete. That Sunday on our way blueberry and lavender picking, we came across an antique shop. Once again Dan found a great addition to our house…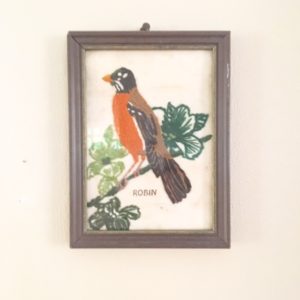 With a toddler running around in our home, it has been a little difficult to decorate the way we want to, so when we find something like this, we get very excited.
All of this for under $10, I think we did pretty well this weekend. Who knows what this coming weekend will bring! Do you enjoy thrift shopping at all? What were some of your lucky finds?