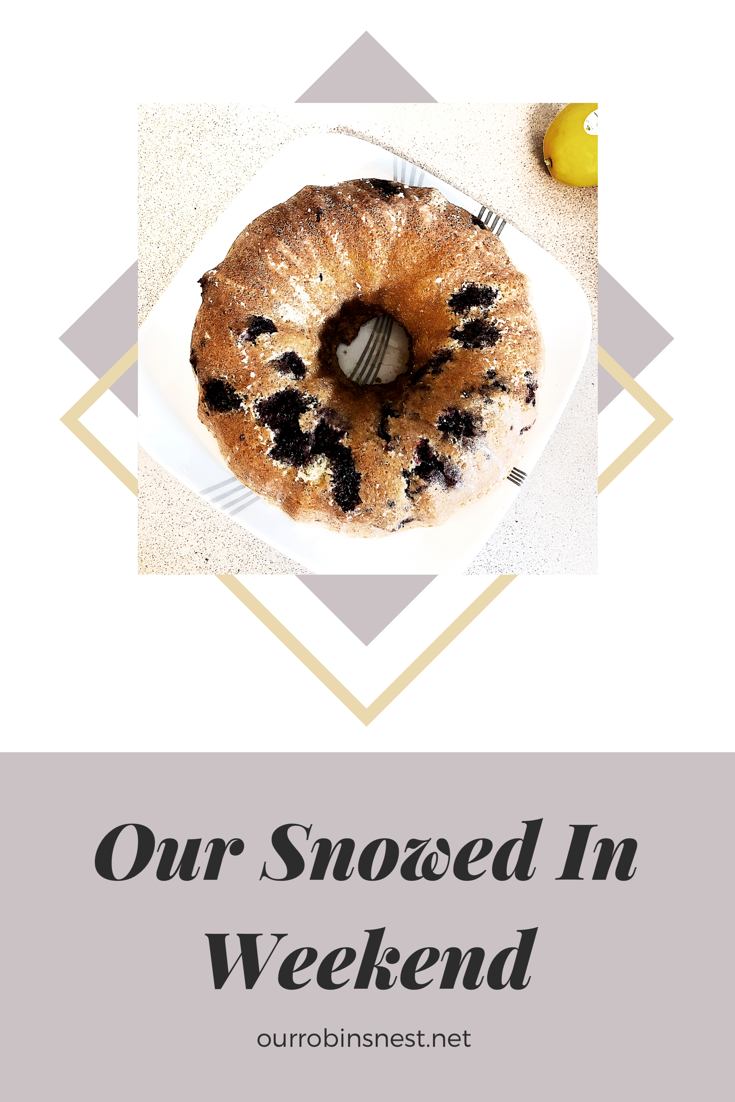 This past weekend was our first big snowstorm of the year and boy did we get hit hard! Not only did we get almost 2 feet of snow but it was also -7° outside! Now if this were to happen during the month of December I'd say bring it, but for some reason when the holidays are over I don't have the same enthusiasm. Deep down I am secretly wishing it for to be October again and start all the fun holidays over. Now don't get me wrong, I enjoy Summer but not how I enjoy all the smells and flavors of Fall and the Holiday Season.
When we found out a storm was coming I told myself this was going to happen whether I like it or not, so I might as well make the best of it. I went to Dollar Tree and stocked up on cheap activities for Franco (puzzles, play do, balloons, doodler) and went to the grocery store to get the essentials- ingredients to make pizza and dessert ?.
Saturday night Franco helped me make this delicious pizza from 
Damn Delicious
 I
t was the perfect treat to eat while we watched the snow fall.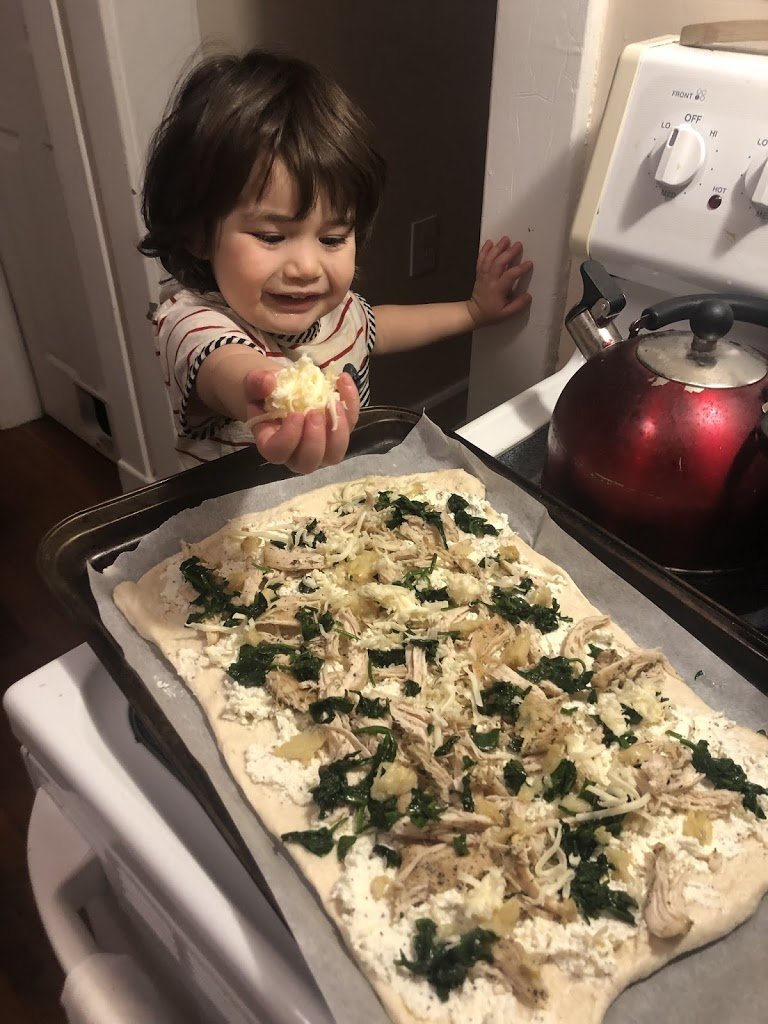 Having Franco help with the little things such as sprinkling cheese is considered a BIG help from him!
INGREDIENTS:
3 tablespoons olive oil, divided

8 ounces boneless, skinless chicken breasts

Kosher salt and freshly ground black pepper, to taste

4 cups chopped spinach

Pinch of crushed red pepper flakes, optional

1 cup ricotta cheese

1/2 teaspoon dried thyme

1/4 teaspoon dried oregano

1/4 teaspoon dried basil

1/4 cup yellow cornmeal

1 (13.8-ounce can) refrigerated classic pizza crust

8 (1-ounce slices) fresh mozzarella cheese
1 head garlic

2 tablespoons olive oil

Kosher salt and freshly ground black pepper, to taste
DIRECTIONS:
Preheat oven to 400 degrees F.

Cut head of garlic, about 1/4-inch, to expose tops of garlic cloves. Place garlic head, cut side up, in a sheet of foil. Drizzle with olive oil; season with salt and pepper, to taste. Fold up all 4 sides of the foil and cover tightly.
Place into oven and roast until cloves are golden brown and tender, about 35-40 minutes. Let cool before squeezing cloves from skin; reserve and mince 8 garlic cloves.*

Preheat oven to 450 degrees F. Lightly coat a baking sheet or pizza pan with olive oil.

Heat 2 tablespoons olive oil in a large skillet over medium high heat. Season chicken with salt and pepper, to taste. Add chicken to the skillet and cook, flipping once, until cooked through, about 3-4 minutes per side. Let cool before dicing into bite-size pieces.

Heat remaining 1 tablespoon olive oil in the skillet. Stir in spinach until wilted, about 2-3 minutes; season with red pepper flakes, salt and pepper. Set aside.

In a small bowl, whisk together ricotta cheese, thyme, oregano, basil and reserved garlic cloves; season with salt and pepper, to taste.

Working on a surface that has been sprinkled with cornmeal, roll out the pizza into a 12-inch-diameter round. Transfer to prepared baking sheet or pizza pan.

Top with mozzarella, dollops of ricotta mixture, chicken and spinach.

Place into oven and bake for 15-20 minutes, or until the crust is golden brown and the cheeses have melted.

Serve immediately.
When we finished shoveling and got Franco to take his nap, I warmed up the house with this delicious lemon blackberry quick loaf. The citrus and fruity flavors sure made me think of warmth and sunshine, it burst with flavor!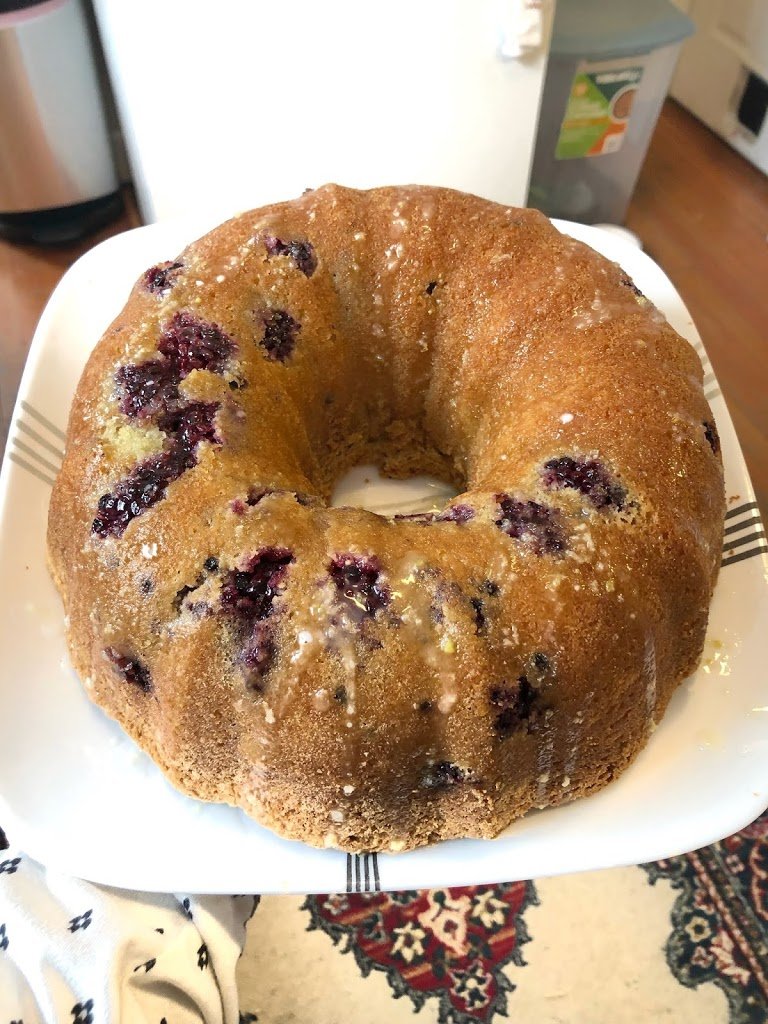 I made a simple loaf look fancy by baking it in a fluted tube pan.
I 
got the recipe from 
The Idea Room
but I switched it up and used blackberries instead of raspberries. This certainly brought some sunshine to our cloudy snowy weekend!
INGREDIENTS:
2 cups raspberries, fresh ( I used fresh blackberries)
For the Lemon Glaze 
(optional)
:
1 1/4 cups confectioner's sugar
Sift dry ingredients together in a bowl and set aside.

In another bowl, combine grated zest, vanilla extract and sour cream.

In a mixing bowl, cream together the butter and sugar until light and fluffy. Add the eggs one at a time, scraping down the mixing bowl well after each addition and mix until blended. Add dry and wet ingredients alternately to butter-sugar-egg mixture until uniformly incorporated- do not overmix. Gently fold in raspberries as not to squash them.

Grease and flour a bundt cake pan or 2 bread loaf pans. Pour batter into pan. Bake in a preheated 350 degrees oven for approximately 50 minutes (be sure to lower the baking time if you are making things smaller). The cake is done when a toothpick or skewer inserted in the center comes out clean. Allow to cool before glazing.
For the glaze (optional):  Mix all ingredients until smooth. Pour over top of cake and serve. For a thicker glaze use less lemon juice.
Fort's are a must when you are snowed in! Franco spent a lot of his time in here!
Overall it was a fantastic weekend and sad that it's over. We spent a lot of time playing, eating and napping, the ultimate trifecta! I actually may be looking forward to our next snow fall! 
Enjoy your snow day!