I am so happy that fall is finally here and the weather is perfect. Chilly weekend mornings call for these fun and easy pumpkin spice rolls.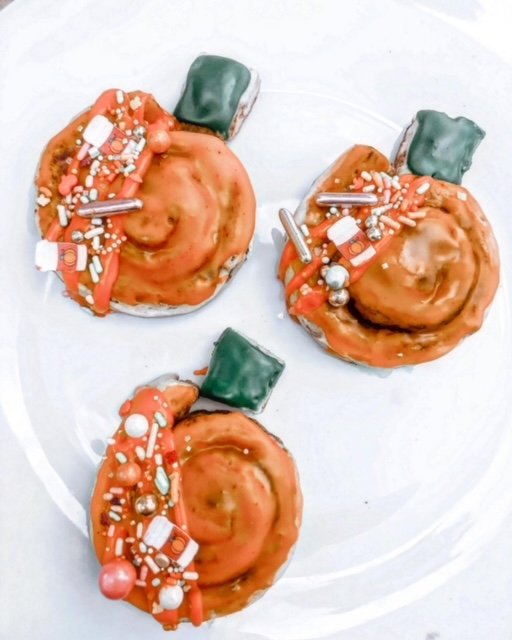 Ingredients
2 cans Pillsbury Cinnamon Rolls with cream cheese frosting
1/2 cup pumpkin puree
1 tbs milk
1/4 cup brown sugar
1/4 tsp ground cinnamon
1/8 tsp ground nutmeg
Orange and green food coloring
Orange icing pouch (optional)
Sprinkles (optional)
Directions
Preheat oven to 375 F.
Open both cans and put aside 2 rolls, unravel the rest and slightly flatten each strip of dough.
Mix together pumpkin, milk, sugar, cinnamon and nutmeg until well blended.
Divide pumpkin filling and spread over each piece of rolled-out dough.
Roll the strips back into a circle and place all in a baking dish, about an inch apart.
Unravel the two rolls that were put aside, cut into rectangle pieces and place on top of each roll.
Bake for about 15 minutes or until golden brown.
Mix one cream cheese icing with green food coloring and the other with orange food coloring.
Once rolls are removed from the oven and cooled, spread green icing on the rectangle stems and orange icing on the buns.
Drizzle orange icing onto pumpkin and , add sprinkles of your choice.